Memorable Trips
by Martin Messing (April 20, 2000)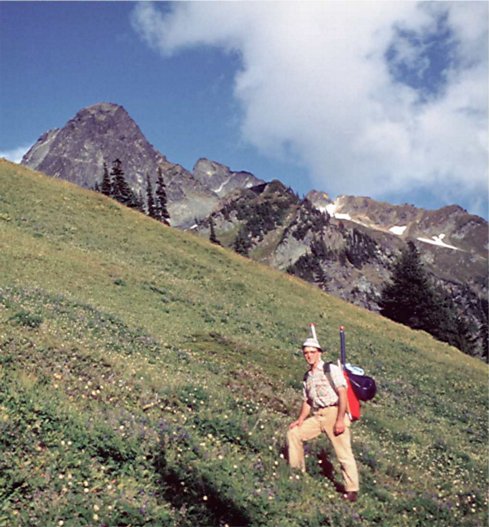 1956 Labor Day Week end Survey Trip to Five Lakes Above Waptus Lake, Near Salmon La Sac, Kittitas County
I grew up and lived on a farm near Shelby, Nebraska, for 21 years. Thereafter, I worked as a machine operator in farm implement factories in Columbus, NE, then for Boeing Aircraft Company in Wichita, KS. Hearing about the mountains, water, skiing, and fishing around Seattle, WA, I asked Boeing, in 1954, for a transfer, which was denied. I quit and arrived in Seattle April 26, 1954. The work I did wasn't important enough for Boeing to rehire me, so I started as an apprentice carpenter.
Upon arriving in Seattle, I boarded at Mr. Nolan's on Waters Street in Rainier Valley for a month. It was here I met my first Trail Blazer, Cecil Schmidt. Cecil, a machinist for Seattle City Light, was building a home for himself nearby on Gazelle Street. Cecil invited me to a meeting, which I accepted. At the time, the meetings were held in the Polish Hall. I was a frequent visitor at the monthly meetings and was invited on mountain lake fishing and survey trips, one of which I will narrate.
I had been reading Pacific Northwest Fishing Guide by Gordon Frear. The lakes around Salmon La Sac seemed like paradise to me. When I had a chance to visit the area Labor Day week end in 1956, I readily agreed.
Friday, after work, Trail Blazers George Kniert, Con Mattson, John Nitzinger, Cecil Schmidt, and I piled into my 1950, two-door Mercury sedan and drove to Salmon La Sac. We sacked out, then hit the trail to Waptus Lake in the morning. We passed by Waptus Lake, 2980 foot elevation, and cut up along Shovel Creek--no trail. We reached Shovel Lake, 4000 foot elevation about 4 p.m. In those times, some of the trail Blazers used rubber-bottom, leather top boots [called shoepacs]. I had bought a new pair from L. L. Bean and was wearing them. They were slightly too short, and on every step the toe cap rubbed on the top of my big toe nails. Both toes had big blood blisters under the nails. I figured we had walked 13 miles, at the time the trail sign said Waptus Lake 10 miles. I also was the only one to carry in a surplus, one-man raft.
After a short rest, the others went on up to Rebecca Lake, 4750 foot elevation and Rowena Lake, 4850 foot elevation, without their packs. My toe nails hurt so much, and I felt beat, so I stayed at Shovel lake. When the others returned, John went out in the raft and caught several trout, about 8 inches long, on eggs. When I saw the size, I didn't try fishing.
The next morning, George and John left early to climb Mt. Hinman, 7494 foot elevation. They would meet the rest of us at Spade Lake, 5050 foot elevation. Cecil and Con had caught two or three fish. Cecil was making kind of a fish soup. By that time I was feeling rested, and I didn't want to leave the area without seeing Rebecca and Rowena lakes. While they were eating, I went and checked out the lakes. When I returned, Cecil said, "What took you so long? We were getting worried."
To cross the ridge to Spade Lake, we started up a rock slide above Shovel Lake. As we ascended, the slide got narrower and the rocks smaller. Finally, the rock rose on each side and the grade steeper, with just a few pebbles, the gap about 6 feet wide. Con went up first. When I started up, there in the center lay a porcupine that had been smashed by a rock. I developed sewing machine knees; Con reached down with his walking stick and helped me up. As we crossed over the ridge, travel was easier. We followed a narrow crack around on the smooth rock. Con said, "Be sure you don't slip, you could never stop yourself." We came down by the outlet of Spade Lake and camped on the other side.
After we ate, I blew up the raft and went fishing. Cecil and Con fished from shore. I paddled to the upper end of the lake; saw George and John by a campfire. They had climbed Mt. Hinman, then came down by way of Venus Lake, 5600 foot elevation. There were rises, but I didn't have any luck. It started to get dark, and I paddled back to camp. I was so cold I could hardly get out of the raft. Cecil said, "we didn't catch any, but there were so many rises you must have knocked them dead, fishing from the boat."
George and John stayed at their camp that night. The air was clear and we could see the Northern Lights. It was a cold night, with frost in the morning. When George and John rejoined us, we learned they had sat by the campfire all night. I think they were traveling light.
We took the switchbacks down from Spade Lake, and on out to the car. John must have been hungry, as he ate over half a loaf of cinnamon raisin bread I had left in the car. It was a good trip, with perfect weather. (end)
1958 Labor Day Week end Trip to Boulder Lake Area, Skagit County
I was asked by a group of Trail Blazers to go on a Labor Day week end, mountain lake pack trip, and I eagerly accepted. As most people quit hiking before Labor Day in that era, it was a great time to get away from the crowds.
On this particular Labor Day week end, the goal was Boulder Lake, 5000 foot elevation, Skagit County, drained by Tenas Creek. Cliff Lawson, Clayton Kilbourn, Milt Tanggard, and I made up the group. We drove up the Suiattle River, in Milt's car, after work Friday and stayed the night at Buck Creek campground. Everybody on the trip was more experienced that I was, and they decided we would take the trail to Huckleberry Mountain Lookout, then the ridge to the lake. Of course, this was before the logging road went up Tenas Creek.
After hiking several miles, we came up to two heavily laden men. They seemed to have everything, including a cast iron skillet. We learned they were school teachers, and had been making a Labor Day fishing trip to Boulder Lake for several years. Our group went on to the lookout; while we were eating lunch, the teachers caught up. The weather was changing and we took shelter in the empty building until a heavy shower passed. The teachers were familiar with the ridge route, and we decided to all stay together.
On reaching Boulder Lake, we set up camp on a smooth, grassy bench. While the rest cooked something to eat, on a campfire, Milt went down to the lake. Later, as we were setting up a tarp so we could sleep in a row behind the campfire, Milt returned carrying a 24-inch, five pound Rainbow Trout. He had caught it on a spoon, as were all the other trout caught that week end. We soon were in our sleeping bags, well satisfied we had picked such a soft, level spot.
Some hours later, we woke to a rumble, and we could see sparks, flashes of light, and smell brimstone. As it was pitch black, we couldn't tell exactly where all this was taking place. We were in a safe place, but at the time, it was unsettling.
The next morning, Cliff went down to Boulder Lake to fish. By the time I came down, he had caught a nice, 17-inch Rainbow. We could see where the rock avalanche had started in the cliffs on the northeast side of the lake and carried all the way to the water. I was able to catch three 13 1/2 inch Cutthroat trout.
Later that day, everybody went up on the glacier-scoured, sloping ridge behind Boulder and Pear Lakes, using the regular route above Pear Lake, 5200 foot elevation. Cliff went over the pass and looked at Crater Lake, 4800 foot elevation. Milt went down and fished Toketie Lake, 5200 foot elevation, without luck. Kawkawak Lake, 5500 foot elevation, was frozen.
After returning to camp, it soon was dark. Everybody settled into their sleeping bags. A couple from our group played cards with the teachers, by the light of a candle inside a can. About midnight, everyone was asleep. Around 1 a.m. the wind came up suddenly, embers from the fire were flying all over, and the plastic tarp was flapping in the gale.
Everybody got up to secure the tarp, just in time, as it started to rain heavily. As the water collected under our sleeping bags, it became apparent why the area we chose was so smooth and grassy. I was the only one with an air mattress; everyone else was lying in water.
Near 3 a.m., one of the teachers jumped up wearing only his boxer shorts saying, "I can't take it; we've got to have a fire!" He tried to start a fire in the rain and sodden ashes, using paper kitchen towels. It was some time before the others were able to talk him into returning to his soaked sleeping bag. Clayton spoke up, "When it gets light, we've got to pack up and leave, not even take time to eat. It's a matter of survival."
When there was a glimmer of light, I got up and dressed. I had scarcely gotten dressed when Milt and Clayton came from right and left, and took possession of the only dry sleeping bag. By this time the rain had quit and I was able to get a good fire going. It was only at 8 a.m. that anyone else would get up.
Everybody fixed and ate breakfast. Then, we packed up and started back up the fog shrouded ridge. I can't recall the teachers doing any fishing at all. Clayton had given up fishing, like a bad habit, several years before.
1959 Labor Day Week trip to Mule, Cub, and Itswoot Lakes, Skagit County
This was my last Labor Day week end trip before being inducted into the Trail Blazer club at the March meeting in 1960. The aim was to fish and survey Mule Lake, 5100' elevation, drained by Bachelor Creek, then over the pass to check out Cub Lk, 5400 ft elevation, and Itswoot Lk, 5100 ft elevation, drained by Sulphur Creek.
Friday, after work, Don Ihlenfeldt, Clayton Kilbourn, John Nitzinger, his white pack dog, former member Jack Rollo, and myself, rode in George Kniert's Ford station wagon to Darrington. After we ate at the Pioneer Tavern, some of the fellows stayed for a few drinks. Don and Jack almost became involved in a fracas with some of the local loggers. Then, Jack wanted to see a man he had previously worked with for the forest service, who was staying at Whitehorse. We drove up to a big white house about 1 a.m. Don and Jack went up to the door holding beer bottles and knocked. When the door opened, they were told he wasn't there; apparently, the beer ran out then, too, as they discarded the bottles on the lawn.
Having finished our business in Darrington, we drove up the Suiattle River road to the Downey Creek trailhead, 1500' elevation, where we arrived about 2 a.m. The morning came all too soon. After we had something to eat, we hit the trail. The Downey Creek trail was in good shape and we had it all to ourselves.
The Bachelor Creek trail started out pretty good, but it wasn't long before we came to numerous logs across the trail. John had a pack on his dog, in which he put canned food; in turn, he carried the dog's dry food. The dog had a very hard time crossing the logs, and most of the time he had to be helped. After awhile, we got past the logs, but the trail was through brush that I doubt had ever been cut out. We would find snatches of trail, then lost it again. We struggled with this for some time, then came up to a Boy Scout troop--two leaders, and four or five boys. After talking to them, we learned they had been to the lakes before and had a cast iron skillet and rubber raft stashed there. When we asked the whereabouts of the trail, they seemed close mouthed. Either they didn't know, or didn't want any competition at the lakes. By that time we had enough of the brush and started cutting up the side hill through the timber to Mule Lake. It was warm and dry; John had his shirt off, when a bunch of yellow jackets were stirred up and he was stung in his chest three times.
When we reached Mule Lake, we didn't see any sign of fish. Clayton, Don, and Jack peeled off their clothes and had a swim. Don and Jack had a good natured rivalry toward Clayton and would call him an Old Goat, or rotten old man. Clayton, for his part, would reply in kind. Clayton, in his fifties, would lament this was probably his last trip and the pace was too fast, and etc. Don and Jack were two of a kind and among other things, took great delight in rolling logs and rocks off mountains. Jack was very jealous of the weight of his pack, and on trips carried very little. Jack was eating some pepperoni; I asked what is was. When he offered me some, I took a good hunk; it was only after I saw the shocked look on his face that I realized I probably had eaten half his lunch.
In order not to lose elevation, we started contouring around the basin from Mule Lake, to cross the pass above Cub Lake. The whole thing was an open-covered bowl and very slippery. Jack dropped straight down, and had to climb back up again to meet us at the pass. John had smooth-soled work boots. John probably had more muscles than any one in the club, but it wasn't helping him here; he was having a terrible time. As the rest of us who elected to stay high moved away from John, his pack dog stayed with us. We met Jack at the pass and took the trail along Cub Lake to the flat where we would camp. When we reached our camping area, John's dog flopped down, a very tired animal. Half an hour later, when John appeared in the pass, the dog lay still; even when he got close, the dog didn't rise to greet him.
Close by the lake where we set up camp was a goat skeleton. I don't remember whether the head was there or not. I was hungry and started a fire to cook; the others fished Cub Lake till dark. I know Jack caught and kept a 19-inch and a 17-inch trout. I think John caught some; I don't know about George; Clayton didn't fish.
The next morning, the others were going to the top of the ridge to look around. I decided to stay and fish Itswoot Lake. I went 300 feet down the rock slide that connected the two lakes. I put on a red and white Gypsy King spoon and started casting from the shore. There were steady rises, but at the very limit of my casting ability. By late afternoon I managed to land two 18-inch Rainbows, the only strikes I had. I met the others in camp, now back from their excursion. The day had been clear and they had good views.
That evening the weather turned threatening and looked like rain. We all squeezed into a clump of alpine trees. Mountain man George pulled out a piece of plastic from his pack, to just barely cover the group. There was a short, light shower that night, but nothing more.
The next morning, when we were packing up to leave, Jack asked me if I wanted his trout catch; he didn't feel like carrying them out. I agreed to take them. It was easier going out, of course, because it was down hill. The Boy Scouts and their leaders? We never saw them again after we first talked to them. My guess is that they didn't know of any easier route in.
Postscript
In 1961, on September 3, I stocked 350 Kamloops rainbow in Mule Lake. I did not have to guess at the route because of the previous trip, and was able to make it a 12-hour round trip.
I haven't been back since, but August 1, 1996, my son, Tim, and I were en route to the lakes, but were rained out. Tim has since visited the lakes, in 1998.