Con (Conrad) Mattson, 1913-1998
by Virg Harder, 12/2001

Con Mattson and Richard Nixon were born on the same date (January 9, 1913), but there the similarities ended, said Con. He became a Trail Blazer in 1939, before all except less than half-dozen of today's active members were even a gleam in their mothers' eyes. Con participated in many Trail Blazer survey trips, stocking trips, and social activities.
Con was responsible for the names of several lakes. Two were named for his daughters, Carole and Judy. He was very proud of them. He should have named one for his wife, Leda. She nurtured, mothered, supported, encouraged, and accompanied him to such an extent he probably never gave it a thought. But Con would not have been the person he was without Leda. She accompanied him on numerous backpacking trips, and did all the cooking, since he probably would have burned the water when making coffee.
I first met Con on August 12, 1966, but at that time I didn't know he was what he was. I had taken my son and a friend of his on an overnighter to Rachel Lake, with the intent of visiting the lakes on Rampart Ridge, since I'd never been there before. My log of that trip includes the following excerpts:
"The three of us set up camp at Rachel Lake, then took off for Rampart Ridge. I knew nothing except it was "up there." So, we went to head of Rachel Lake and climbed up alongside an inlet as far as we could go, then headed straight up to the top of the ridge. After meandering north along the ridge past several pots, we came to a little larger lake with a nice campsite at the north end. Two people, a yapping dog, and a tent were visible. Went over to chat with the people. He said they were with a group that was bringing trout fingerling up to the lakes, but he and his wife had come in a day early to check out the area. Not until I became a Trail Blazer and reminisced with Con did I realize the two people were Con and Leda Mattson… The weather didn't look very good when we hit the sack. About 2 a.m., rain began. It was not just a mountain drizzle; it was rain, hard rain, with some wind. About 5 a.m. I woke up and saw my son's friend sitting on a downed tree trunk with his sleeping bag laying over his shoulders. He had moved around enough that water running off the plastic had entered his sleeping bag; it was sopping wet. We got up about 6 a.m., struggled through a little breakfast on the Sterno stove, and decided we'd had enough. We headed out.
After heading down the first, steep part from the lake, we reached the more level trail out to the car. While on the way, we came upon a bunch of decrepit-looking men with weird cans strapped to their backs. Someone was running up the trail and stopping to take pictures of them every once in awhile. "What in the world is this?" we wondered aloud. One of the men said "We're taking fish in to stock the Rampart lakes. A fellow is filming our trip." It was no longer raining, but the brush was rather thick and quite wet; they were a mucky-looking bunch.
Turns out that 8 Trail Blazers and 6 visitors made the trip in, while one Trail Blazer and one visitor made the trip out. Yes, Con and Leda were smart enough to head out (even before we did); according to one of the men heading in, "Con said it was the worst night he had ever spent in the hills."
Then, there were the two trips Con and I made to lakes on Lime Ridge…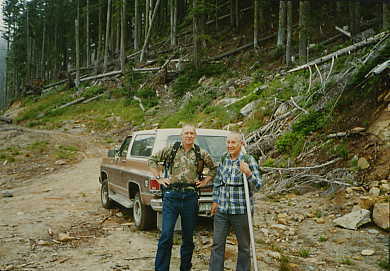 Box Mountain Lakes to Twin Lakes, 8/26-28/1975. I talked Con Mattson into going with me to visit the lakes on Lime Ridge. We didn't want to hike the whole ridge in one shot, so we decided to take the "north" route. We went up the north end to Box Mountain lakes, then along to Rivord lakes, and on until we reached Lower Twin Lake, where we set up camp. It was NOT the easy hike that it had looked like from the air. A trail was relatively easy to follow up to Box Mountain Lake, but from then on, some "route smelling" was required. One rather long rockslide had no cairns or anything; one had to deduce where to exit at the other side. We did make our destination without any retracing route or extra steps or being faced with not knowing where we were but not being lost. It was an enjoyable trip. Going out, we dropped straight down from Lower Twin to the Milk Creek trail. The drop down was a little brushy and steep, getting to and across the creek was even more brushy, but it was doable.
Mica Lake to Twin Lakes, 8/8-10/1977. Two years later, we covered the rest of the lakes on Lime Ridge. This time we went south on the Milk Creek trail until we came to a lightly treaded spur that took us to Mica Lake. Sitting in solid sunshine at about 8:30 p.m. with the wind howling about 35-40 miles an hour against our tent was not our idea of pleasant camping. The next morning we arose to new ice that covered Mica Lake, ate our breakfast, then traversed the cirque to a small notch, went through and faced a steep snow slope, about 300 feet across and 200 feet above and 300 feet below. Sunshine and cold temperatures had hardened the snow to the point we were afraid to cross it without ice axe or crampons--neither of which we had. So, down we went, then back up, then on to Lime Lake.
Con and I had a VERY enjoyable evening at Lime Lake. I had brought 8 ounces of booze so Con could have some. Turns out that he had brought 8 ounces so I could have some. Yes, we had an enjoyable evening. The next morning we staggered up the steep slope, over the ridge, and on to Milk lakes, then on to Twin lakes. Again, we dropped down from Lower Twin Lake, intercepted the Milk Creek trail, and back to transportation. Con and I went on a number of backpack trips together; the "north" and "south" routes, however, were two very memorable trips I went on with Con.
And, another trip…
Glacier Lake and Chikamin Lake, 9/23-25/1974. Another memorable trip I went on with Con was to Chikamin Lake. I had been to Glacier Lake the year before, so had no problem getting to it. What made this trip so memorable was going from Glacier Lake to Chikamin Lake. We had never been there, and we hadn't been able to get much information about route. We had to find our way strictly by topo map and by our "feel" for route. We couldn't have picked a better route if we had been on our 6th trip. Getting from Glacier to Chikamin was so simple we almost thought it was a no brainer. But, we knew better. It isn't a Sunday hike.
When it came to fishing, Con was very competitive. He was very proud of his fishing ability. We backpacked together to a number of mountain lakes, fished for perch at O'Sullivan Dam, and fished for trout at several lakes in the Vanderhoof, B.C. area. Very seldom did I --or anyone else-- outfish him.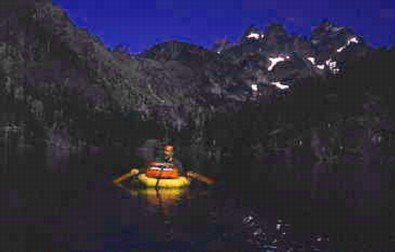 Nulki Lake, B.C., was one of Con's favorite lakes. He talked my wife, Dona, and me into accompanying him and Leda in 1976. Nulki Lake became an annual summer "week-surrounding-summer-solstice" trip. Since these were "fun" trips, Con and I frequently napped after lunch so we would have the energy to engage vigorously in pursuit of trout.
During one of our Nulki trips, Con and I retreated to our respective quarters for a nap. Shortly thereafter, I decided to sneak in some fishing while Con was asleep. I did. About 2 hours later, I came in with 3 18-inch Rainbow trout. By then Con was awake. "I thought you were taking a nap," he snapped. I showed him the fish and said, "No, I had other things to do." He was silent, and livid.
We seldom fished in the evening because we seldom caught fish that time of day. This particular evening, however, I was sitting in my trailer just after dinner when I looked out one of the windows and saw Con stomp by, chin sticking out, head pointed straight ahead, fly rod and tackle box in one hand, and fish box in the other hand.
About 10:45, at dusk, I was in bed and asleep. I awoke as a consequence of hearing a loud knocking on the trailer door. I opened it and there was Con, with four 18-inch trout in his fish box. "See, I just wanted you to know that others can catch fish, too," he said, then walked off toward his camper.
One final trip, and I'll quit. In 1981, several of us took a trip from Snoqualmie Pass to Upper Wildcat Lake, then cross country to several other lakes. We wound up on the Middle Fork Snoqualmie River road. By then, Con was almost 70 years old. Because he was worried about being able to stay up with the rest of us, he left Snoqualmie Pass about a half hour before we did. On the way, we met several people coming out, asked them if they had seen a 6-foot fellow carrying a full pack. "Oh, he must be the one who we met on the trail; he said he was 70 years old, and with several younger people." We never did catch up with him. At the lake, about 3 p.m., weather started moving in. Con wasn't interested in spending a night in the rain. He decided to head out. He was almost 70 years old; he hiked about 7 miles in with full field pack, and 7 miles out with full field pack. We got wet.
I could spend pages describing the many trips and good times we had. Con knew his way around the mountains. He knew how to enjoy evenings around the campfire. In his later years, he was smart enough to bail out of the mountains to avoid getting soaked by cold rain and miserable weather.
As mentioned early in this biography, Con gave names to several unnamed lakes, including Carole and Judy for his daughters. The Trail Blazers, as a gesture of memory and respect for Con, have named a small nearby lake. It is called Cons Lake.