Clayton John Kilbourn
from interviews by Mike Swayne and Trail Blazer records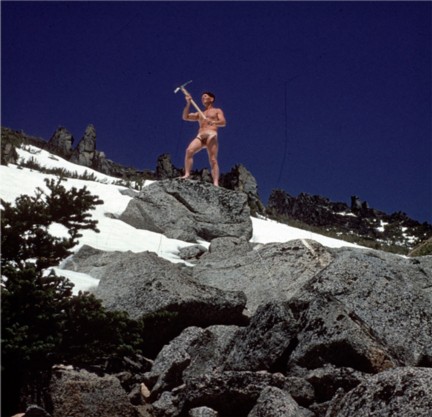 I was born on 5/10/1914 (the first Mothers Day) in Bemidji Minnesota. I was the oldest of seven kids. My dad lost his hardware store during the depression after WWI and we moved to the family farm near Bertha. I attended the District 141 one room school for a few years until economic conditions improved and we moved to town. My dad turned to carpentry and help build barns. I attended the large Bertha school which combined all grades from K through high school. Some conservative people in the area complained about the cost "why did the area need such a fine big school". I have always voted for school levies. It is probably the most important thing government does. I know what poor schools are like, having been in a one room school with no facilities and a teacher who did the best she could but was poorly trained.
During these days it was not uncommon for some folks to make their own booze. Kids would get it from their big brothers and bring it to the woods near school and ask the younger kids if they wanted a nip. Some of it wasn't bad. My dad would take my cousin and me fishing in the local lakes for pike and pickerel. He also had a ice fishing shack we used in the winter. We would use a lantern to attract the fish and spear them when they swam by the hole. People would also catch spawners as they traversed the streams between lakes. My mother would salt and smoke the fish. We also hunted rabbits. Most of the people in the area were either Finnish, Norwegian or German.
My mother joined the Pentecostal church because she wanted to go to a church and it was nearby. They were a shouting type of religion that believed that man was basically bad and that all non-believers and Catholics were doomed to Hell. I had to go to Sunday school until I was 15 and then I never looked back. There was too much intolerance and ignorance for me. I did well in school and was awarded several ribbons for running on the track team. I liked to run the mile the best.
My dad began having health problems and the doctor told him he needed to move to a better climate or he was going to die of pneumonia. The family moved to Walla Walla where he had a cousin and there was work. The economy improved during the "Roaring Twenties". I had two more years of high school so I stayed to finish. I lived in a boarding house and worked at a grocery in the afternoon and as a telephone operator in the evening to pay my way.
After school I moved to Walla Walla. By now we were in another terrible depression. You would see men down at the fish hatchery with a line running down their pants trying to catch a fish, pigeons were scarce. I eventually got a job at the hospital as an orderly. That is where I met my wife Mary June who was a nurse. The sisters who ran the hospital warned the nurses to stay away from the orderlies, and they were correct as we were soon married. June (Mary and June lakes on Tonga Ridge) was from a French Catholic family and we had a good life together raising three children David (David lake on Tonga Ridge), Madge and Paula, until she died from cancer.
We moved to Seattle when Boeing was hiring almost anyone. I worked as a riveter and then a mechanic. When the War started they told the men with families you can either go someplace else for more money and probably get drafted or you can stay and work here. I stayed since June worked nights at the hospital and I watched the kids.
I was amazed by the trees and mountains in the Northwest, it was so different from Minnesota. I started going on hikes with a neighbor George Palmer who was a scout master. I was his assistant and my son David would often go, although he did not join the scouts. We went to places like Snow and Gem lakes near Snoqualmie Pass. One time I was talking with another neighbor Jack Pfister and he said if you like the mountains you should join the Trail Blazers. My first Trail Blazer trip was with Harry Sharer to Fisher Lake in 1950. In those days you walked from the bottom of Tonga Ridge.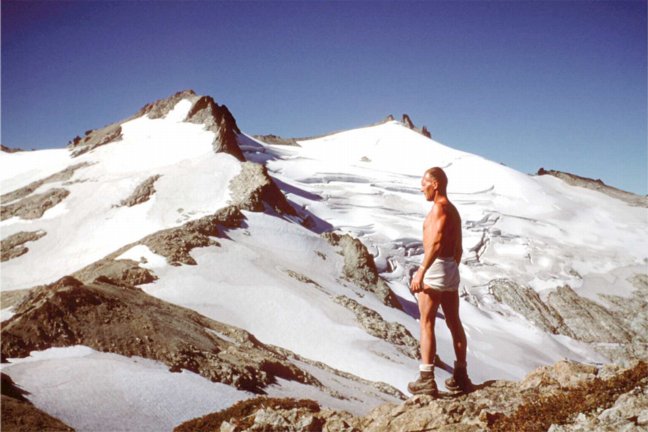 I joined the Trail Blazers in 1951. I made so many good friends in the Trail Blazers and we had so many good times going to dances and picnics and just sitting around having a few drinks and telling stories. I became part of what George Lewis called the "Rainier Beach Mafia". Let me tell you about some of these mafia.
John (Jack, Hard Rock) Pfister and his wife Sally were the first friends June and I had when we moved to Seattle. His daughter Donna used to baby sit for us. Jack was an outspoken interesting guy who liked to have a good time. He was from Wisconsin and an excellent woodsman. Jack was a machinist at Boeing and later ran his own machine shop. He decided to build a cabin on a mine claim near Lennox Creek and I was his helper. We had so many good times at that cabin. Jack knew some "Tarheels" up in Darrington who had a still. Sometimes someone would have a little too much of the good times and go down to the creek to wash their face. If they didn't come back after awhile Jack would say "better go down and see if so and so fell in the creek". When Jack was dying from lung cancer he said "Clay I have had a good life, I had a good wife, a good family, so many good times with so many good friends, and a good job. I don't have anything to complain about." Jack was quite a guy I miss him so much.
Harry Sharer and his wife Mary became good family friends and we went on drives and picnics together. He was a little on the chubby side so he would say "I like to hike but I know my limitations". Mary got cancer and they moved to New London to be near their son who was at the submarine base.
Elmer Miller was also a good friend and neighbor. He was a nice quiet guy who didn't drink, but he was fun to be around and was an excellent woodsman.
Paul Butler was an charter member of the Trail Blazers and like to sit and talk with all the old guys.
Hank Hoff was a postman who did not suffer fools gladly and figured he was surrounded by them much of the time. Hank was not adverse to getting into a good argument or even a fight. Hoff would say "I am glad I saw the mountains before they were run over by all these people".
Ray and Roy Lawyer were brothers and nice people. Sally Pfister was a Lawyer. Other people from the old days that were not from Rainier Valley but I have to mention are:
George and Alice Oikari were good friends. George was a floor layer and Alice was something else, she could really cuss. Later Alice died and George remarried.
Jack McKail was a character. I remember him getting into a shouting match with John Sergeantson, the Skykomish ranger up on Tonga Ridge. That's when Rollo used to work for the Forest Service.
Charlie Yadon was an educated refined person. He was taking an art class one time and he needed to do a human body and a landscape so I gave him two of my pictures. Those oil paintings on the wall of Don Ihlenfeldt in his shorts and the Park Lake meadows are the result.
Andy Jackson was a beautiful person. He liked to come over and have a few drinks and we would talk. Many times he would just go to sleep on the floor and I would throw a blanket over him and he would get up and go home in the morning.
Regarding interesting stories there are so many of them and we had so many good times. One piece of unfinished business is Don Ihlenfeldt's initiation. He had escaped being initiated into the Trail Blazers by going into the Army and going to Germany. When he came back Con Mattson and I grabbed him during one of the meetings and dressed him up as a woman to take downtown. We had him by the arms and were taking him out the door when that liar said he would go peacefully. When we relaxed our grip he made a break for it and jumped over the fence. We chased him through several backyards but he was too fast for us and got away. One black woman could only say "Land O Goshen" as we ran by. But I had his keys and clothes so I figured he couldn't get very far. But that sneaky rascal had a spare set of keys hidden on the car and after a while snuck back when we weren't looking and roared off. Well at least I had his clothes. A few nights later someone knocked on the door and June opened it up. Ihlenfeldt charged into the house made for the bedroom closet and grabs his clothes. June and I are yelling at him but he ignores us and takes off. One thing Con and I said we were going to do before we died was to see that Ihlenfeldt was properly initiated. Well Con is gone so now I guess it is up to me.
One bad time for me was when I fell on Mount Sahale. A rock I was hanging onto came loose and I went over backward with the rock and fell about twenty feet onto hard snow. The big rock went over the top. If it had landed on me it would have crushed me. George Kniert and Don Ihlenfeldt helped me down. Some firemen hiking near the pass saw us and came to help. They said I was in shock and would have to lay down. They made a stretcher out of poles and carried me down. By the time they got me to Sedro Woolley I was in bad shape with a broken shoulder and several cuts and bruises. They hooked me up to the IV and the morphine soon gave me a warm cozy feeling and I drifted away. I can see why people might get addicted to that. I was in the hospital about a week. All some guys in the Trail Blazers said was "We always knew Clay was going to end up in Sedro Woolley" (the location of the mental hospital).
I always had mixed feelings about taking fish into remote areas. Much of the country at that time was so wild and so beautiful and I was afraid fish might bring too many fishermen. I liked plants and joined the Seattle Rhododendron Society and the Heather Society. We helped take care of many gardens in the Puget Sound area. I decided to build my own garden in the yard. Our house sat on a double lot so I had the room. For 7 years I carried buckets of dirt like a Chinese coolie from a gully behind the house to build my mountain. That is one reason I got so strong. I would also let people dump clean dirt in the yard. I got some large rockery rocks and rolled them into place to hold up the sides of the mountain. I planted all kinds of small trees, shrubs, flowers and mosses native to our mountains. I liked to go out in the evening with a Manhattan and my cat Clancy and sit on my mountain. (Note: the Golden Trowel trophy was made by Dick Pearson and Jan Henderson for Kilbourn).
The trip to India and Nepal with the Rhododendron Society opened my eyes to the rest of the world. Milt and Beulah Tanggard were on that trip. When we were in Katmandu I could see that we were in a place that had not been touched by Western Civilization. I talked to a Buddhist priest who told me, "Yes, your man Jesus was over here and learned quite a few things from us". That made a big impression on me and I never forgot it.