Charlie Lund, 1914-1989
by Vern Cohrs and Virg Harder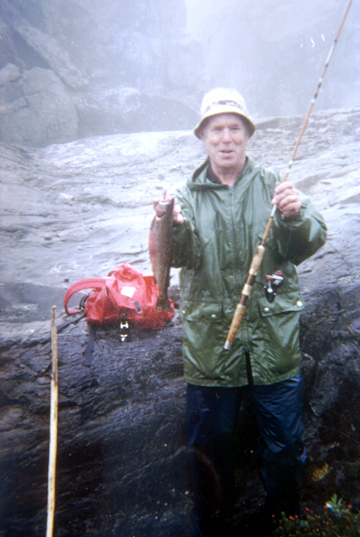 Born - August 2, 1914, Ymir, British Columbia
Early years - Monroe Washington. Graduated 1930 from Monroe High School at age of 15.
The decade of the '30s and the depression took Charlie on many an adventure. He attended the University of Washington on and off for three years. To earn a living during those difficult times, Charlie was able to find a job working in the mining industry up in Alaska. The mining business also employed him closer to home when he worked at the open pit cement quarry above Grotto.
The decade of the '40s brought the world and Charlie into World War II. The U.S. Army gave him an all expenses tour of the world, and to understand the meaning of the right way, the wrong way, and the Army way. From Alabama he went to Europe, and thought he was headed home after the war. One minor detail: the Army had lost his paperwork. He wound up on a troopship headed for the Philippines via the Panama Canal. After a long, lousy trip, he wound up in the Philippines--after the war was over and still without paperwork. By the time he eventually got back to Seattle, the surrounding mountains never looked so good.
Charlie and his wife, Emma, settled in, and he was employed from 1946 to 1968 by the City Transit Company. In 1968 he moved to Seattle City Light, and retired in 1976. Whenever time permitted, Charlie was off to mountain lakes, regardless of weather.
He was one of the early members of the Hi-Lakers organization, and its president for more than 12 years. The Trail Blazers were as friendly toward Hi-Lakers as they were toward skunks. Any person who even said "hi-laker" during meetings was automatically fined 25c. Nevertheless, Charlie knew what the Trail Blazers did, and met a number of them during his trips to mountain lakes--because many lakes he liked to go to also were lakes that the Trail Blazers liked, and kept stocked with trout.

When the North Cascades National Park (NCNP) was established in 1968, stocking trout in park lakes became an issue, and it has remained an issue ever since. Charlie very early became involved, fighting the tricks and bureaucratic stonewalling of certain NCNP personnel. Several Trail Blazers also were actively involved in fighting NCNP deadheading. It was inevitable that Charlie became acquainted with members, and, in 1975, became a Trail Blazer.
That point in time was the thick of the fray with NCNP. Charlie and several Trail Blazers spent many hours together researching issues, writing letters, attending meetings, arguing, and pressing for satisfactory solutions to promises made when the NCNP was established, but denied by certain Superintendents and fish biologists. Charlie and Virg fed off each other. When one became depressed and was ready to toss in the towel, the other bucked him up.
Charlie took pride in not missing a meeting until he went to New Zealand for one of his daughter's wedding. He faithfully planted his lakes, including favorites Thorp and Crater. For many years, he made an annual trip to Lanham Lake with members of his family.
Although Charlie was a Trail Blazer for only 14 years, he became well respected and appreciated in that short time. After his death in 1989, the Trail Blazers placed a plaque at Lanham Lake in remembrance of his untiring activities as a Trail Blazer, ranging from serving on a number of committees to stocking lakes to writing letters to making phone calls. Charlie was dedicated, and loyal.