Biography
Vic Cohrs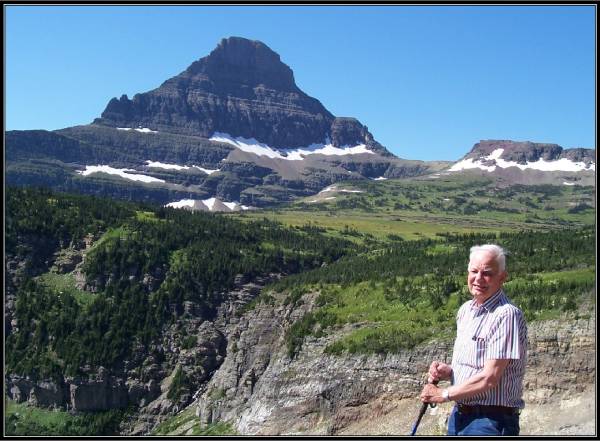 Vic was born Dec 26, 1926 in Lethbridge Alberta, the 2nd of eleven children. His father was a Lutheran minister and US citizen who moved the family to Chinook on the Milk River in north central Montana in 1929.
Vic spent much of his teen years working summers in the outdoors as a ranch hand and sheepherder. Most men were off fighting WWII so boys took on lots of responsibility. A vivid memory was driving a horse drawn John Deere haymow on a rocky side hill and breaking the mower transmission. His boss was mad and said "You don't get paid today Vic!" But they took the mower transmission to town and were able to weld a fix. Herding sheep, he would often take refuge in a car during the frequent thunderstorms on the theory that the rubber tires would insulate him from lightning strikes. Vic also got out of school during harvest time to drive a tractor towing a combine. This was good money and an excused absence from school.
One of Vic's great pleasures as a kid was fishing the creeks out in the wilds where he worked. Creeks only a couple feet wide yielded large brook trout, rainbow and cutthroat. The fish ended up in the family larder because during the Depression, all food sources were welcome to support his family.
Vic graduated early from Chinook High School in February 1945 so he could go into the US Army. He attended his 60th high school reunion in 2005. Photo 1 shows Vic in Glacier Park on the way to his 60th high school reunion In Chinook. This reminded Vic of the time he would catch a ride along US-2 to the Park as a kid in the 30's and early 40's to catch some nice size fish.
Vic got as far as Hawaii after basic training in Texas with the US Army in 1945 when the war with Japan ended. Since he knew how to type, he was given the task of out-processing soldiers from the Pacific theater and was discharged in 1946 at Ft. Lewis as a staff sergeant.
Vic took advantage of the GI Bill and graduated from the UW school of insurance in 1951. He parked cars at UW sports events to make some money and could tell when the UW football team was doing well by the roars from Husky Stadium. Don Heinrich and Hugh McElhenny were the college football stars at that time at the UW. After college, Vic married Delores Kastner, worked for several insurance companies including Safeco and opened his own independent insurance agency in 1964. Vic and Delores have been married 54 years and have three children: Vern, Lyle and Lee; and five grandchildren: Michael, Natalie, Rebecca, Joshua and Elizabeth.
Vic started hiking in the Cascades with his kids in the 60's. Young son Lyle got spooked on the Pratt Lake trail by biting flies at a horse puckey pile and WOULD NOT MOVE - just yelled! Another memorable trip was to Surprise Lake and Glacier Lake near Stevens Pass with son's Vern and Lyle during the 1967 Evergreen Mountain big fire, which generated huge smoke plumes that could be seen in the distance while walking the trail to these lakes.
Vic was Cubmaster of Pack 177 and Scoutmaster of Troop 177 in Seattle for many years. All three of Vic's sons, Vern, Lyle and Lee and many other boys attained Eagle while he was Scoutmaster. He led Troop 177 on a number of 50-mile hikes, covered the PCT from Kennedy Hot Springs to Mt. Rainier and took weeklong trips to the Pasayten and Olympics with the Troop. He took pride in getting the Troop out on a hike once a month no matter what the weather. Trips to high lakes were a priority during the summer. During a Troop 177 hike near Pear Lake around 1968, Vic met Marge and Roy Wagner from the HiLakers, started going to meetings and was HiLaker president for several years. Charlie Lund was a mentor and frequent hiking partner. Vic was one of the first buyers of a Curtis raft and had #6, one of the white ones.
Vic's son Vern returned to Seattle from coaching college basketball in Texas and Idaho and joined his father at the HiLakers. Vern became interested in the Trail Blazers and was invited to join in 1987. Vic followed Vern into the Trail Blazers in 1989 and became president in 1993. Some "legislation" passed during Vic's "reign" that helped move the Trail Blazers into the "modern world" include:
Motion made and passed for Librarian to provide Bob Pfeifer, WDW biologist fish planting information from Trail Blazer files for lakes in the Skykomish drainage. A decision that rankled some old timers who did not want close relations with government agencies but helped forge stronger relations between Trail Blazers and WDW (now WDFW).
Motion made and passed to have Virg Harder monitor the lake studies being done by OSU for the North Cascades NP, thus started the road to the NOCA Fish Management EIS that the Trail Blazers are still monitoring and contributing to.
The Forest Service asked Trail Blazers to cooperate on lake studies in the Skykomish area, which they eventually agreed to do, thus rankling the anti-government faction some more.
One motion made by Virg Harder and passed in 1993, that Vic can soon take advantage of, was that any member 80 years old who has been to a meeting during the last year be granted Honorary Life Membership.
Trail Blazer records show Vic sponsored or helped on 52 fish stocking trips from 1980 to 2004 and turned in 40 survey reports. Favorite lakes were Peek-A-Boo, Beaver Plant, Crater, Grouse and Pass. Photo 2 shows Vic on the way to Peek-a-Boo Lake. Like most Montana Lutherans who grew up herding sheep, Vic enjoys a certain amount of masochism.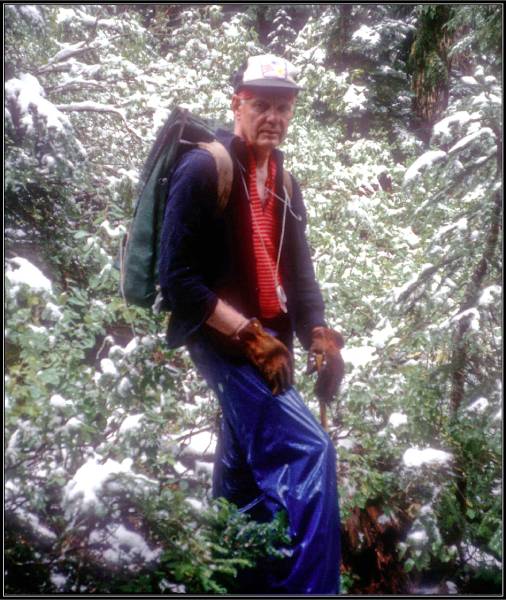 Vic retired and sold his insurance agency to son Vern in 1998, but remains active in the office offering wise advice. Vic became a Trail Blazer Mossback in 2002. His health does not allow him to hike anymore but he still sponsors several lakes, makes all the arrangements with the hatcheries and sets up the stocking trips. Then he takes small walks near the trailheads while his kids and grandkids take the fish in. Virg Harder is a companion with Vic on many of these stocking trips. Vic and Virg make sure that breakfast and dinner locations are located to benefit all of the trip participants.
One of Vic and Virg's more "interesting" trips, not to mention expensive, was when their pickup truck slid partway off a logging road. They were 12 miles from Enumclaw in an area with little traffic. After hoofing a few miles, it was getting near dusk, when they were offered a ride in the back of a pickup with a very recently deceased deer. Since this was May, this technically made Vic and Virg at least witnesses if not accessories. Options were:
Say thank you for the offer but they enjoy walking logging roads all night into town;
Make a citizens arrest right on the spot and hope they did not end up like the deer;
Keep their mouths shut, put a smile on their face and get in with the deer.
As you would expect an insurance broker and a business professor to do, they carefully weighed all the pros and cons and cost/benefit ratios for each option for about 2 seconds then jumped in with the dead deer. Because who knows, these guys could actually have been guardian angels sent to rescue them and to blend in they just appeared to be poachers. Sometimes you have to go with your gut instead of your head in these matters. They spent the night in a motel and the next day hired a wrecker for $200 to take them back and pull their rig onto the road.
Vic still likes to get out every summer at least once to Rimarko Ranch at Charlotte Lake in BC. Until a couple years ago, he spent several weeks every summer as the Ranch caretaker on his own. It reminded him of his sheepherding days by being self sufficient for days and weeks at a time.
Vic's favorite thing to do at Trail Blazer meetings was to call for a show of trophies. He earned and was awarded a few during his active hiking time. The cowbell and cane, along with the golden trowel, were in his possession at one time. Vic passed away on December 16, 2012.